Add your email below to receive each new Bitcoin Poem as it's written! Learn about sound money and how it can transform your life.
You are free to share any of these and post anywhere you like. These are intended for education.
If you post one, please refer people back to this site so they can read more. Click here to see Bitcoin Poems on Patreon!
Just click on each link below to see each poem on a background.
Watch the Ledger in the Sky Music Video Here
Or click the video below
Watch Lily interviewing Jack Mallers below
---
Let's Change the World - Bitcoin Poem 007
Larger Version of Let's Change the World
Text Version of Let's Change the World (Share!)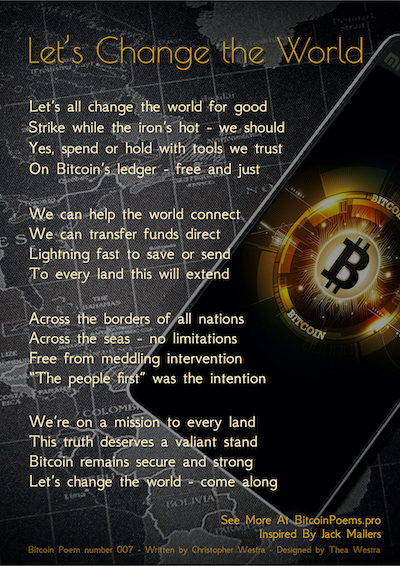 ---
Fiat - By Decree - Bitcoin Poem 008
Larger Version of Fiat - By Decree
Text Version of Fiat - By Decree (Share!)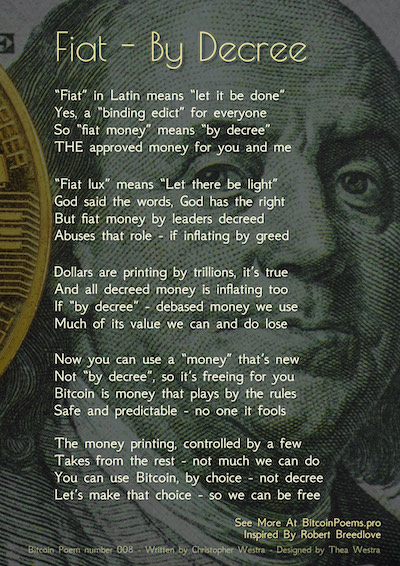 ---
In Case It Catches On - Bitcoin Poem 009
Larger Version of In Case It Catches On
Text Version of In Case It Catches On (Share!)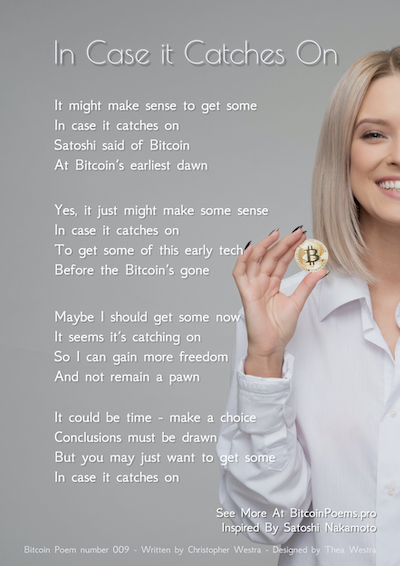 ---
Protect and Defend - Bitcoin Poem 010
Larger Version of Protect and Defend
Text Version of Protect and Defend (Share!)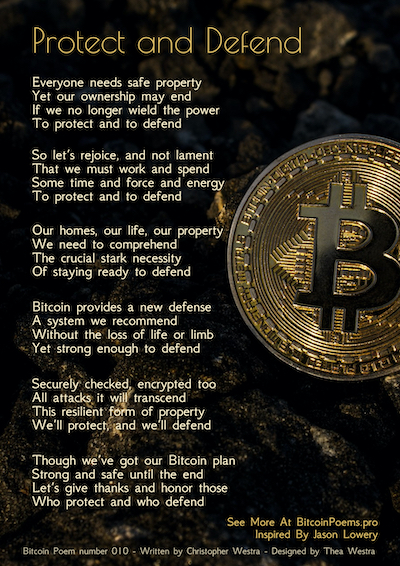 Support Bitcoin Poems with a BTC Tip

3B3nCsTsLnfDLJcf67Dd4qNUNTU4o1VFEE
---
Other Resources Below
---
Play by the Rules - Bitcoin Poem 011
Larger Version of Play by the Rules
Text Version of Play by the Rules (Share!)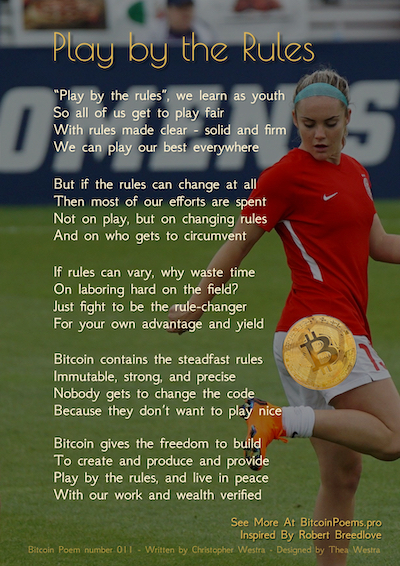 ---
Bitcoin vs CBDC - Bitcoin Poem 012
Larger Version of Bitcoin vs CBDC
Text Version of Bitcoin vs CBDC (Share!)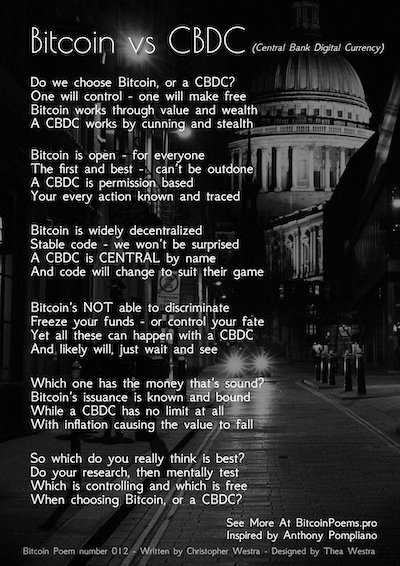 ---
The Bitcoin Revolution - Bitcoin Poem 013
Larger Version of The Bitcoin Revolution
Text Version of The Bitcoin Revolution (Share!)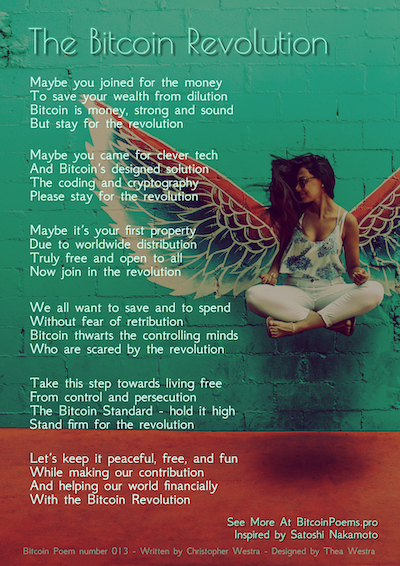 ---
Bitcoin - No Single Point - Bitcoin Poem 014
Larger Version of Bitcoin - No Single Point
Text Version of Bitcoin - No Single Point (Share!)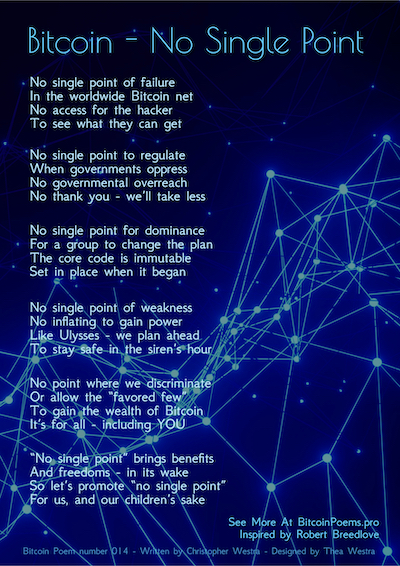 ---
Bitcoin: The RIPCORD Blockchain - Bitcoin Poem 015
Larger Version of Bitcoin: The RIPCORD Blockchain
Inspired by Andreas Antonopoulus
Text Version of Bitcoin: The RIPCORD Blockchain (Share!)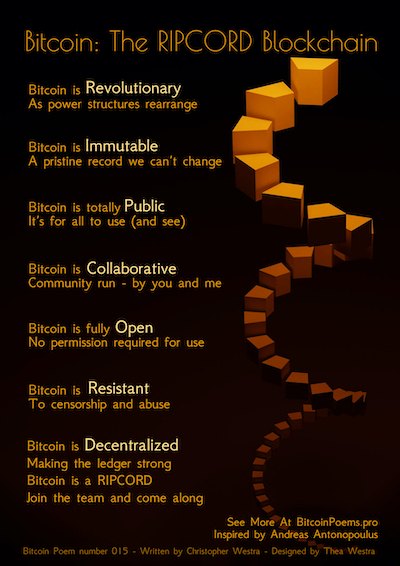 ---
Keeps On Growing - Bitcoin Poem 016
Larger Version of Keeps On Growing
Text Version of Keeps On Growing (Share!)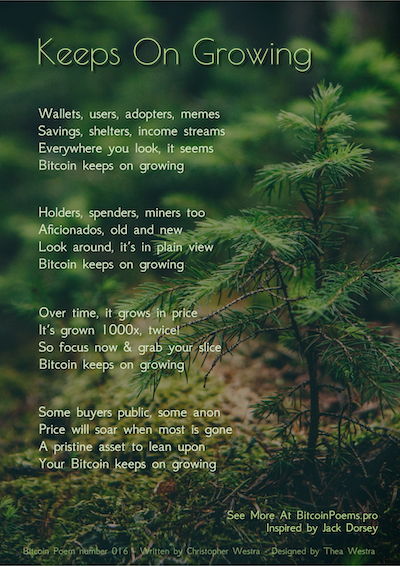 ---
You Can Buy It Anywhere - Bitcoin Poem 017
Larger Version of You Can Buy It Anywhere
Text Version of You Can Buy It Anywhere (Share!)
---
Bitcoin's The Way - Bitcoin Poem 018
Larger Version of Bitcoin's The Way
Text Version of Bitcoin's The Way (Share!)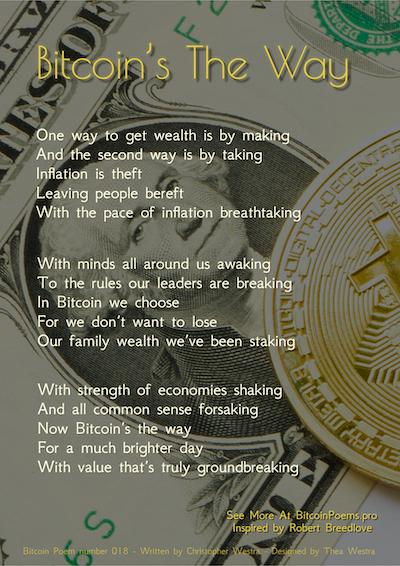 ---
A Pristine Asset - Bitcoin Poem 019
Larger Version of A Pristine Asset
Inspired by James at InvestAnswers YouTube Channel
Text Version of A Pristine Asset (Share!)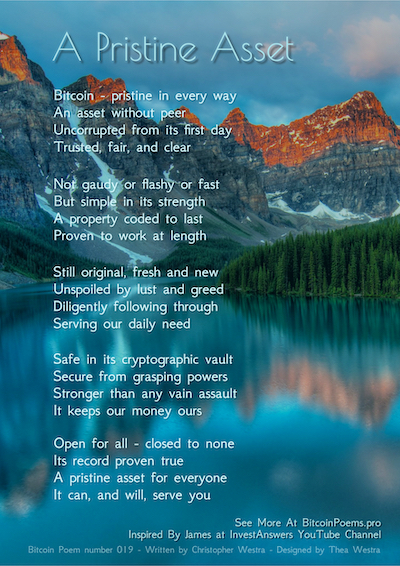 ---
Bitcoin: The Global Reserve - Bitcoin Poem 020
Larger Version of Bitcoin: The Global Reserve
Text Version of Bitcoin: The Global Reserve (Share!)
---
Bitcoin: Sound Money - Bitcoin Poem 021
Larger Version of Bitcoin: Sound Money
Inspired by LookingGlassEducation.com
Text Version of Bitcoin: Sound Money (Share!)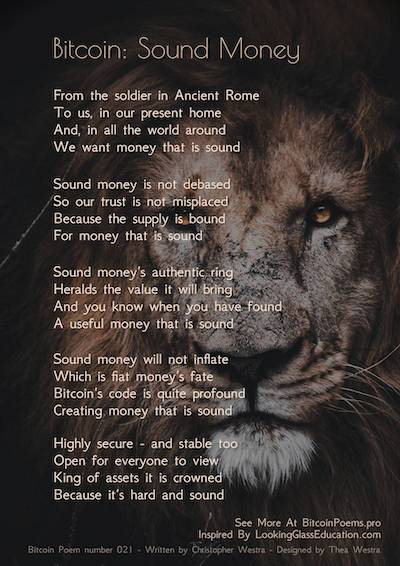 ---
What It's Not - Bitcoin Poem 022
Larger Version of What It's Not
Inspired by Matthew at Trader.University
Text Version of What It's Not (Share!)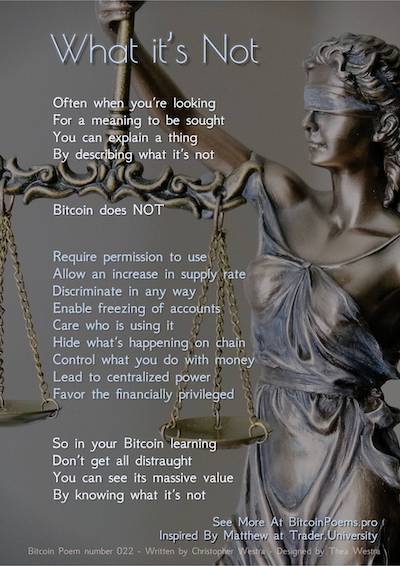 ---
Beginning - Bitcoin Poem 023
Text Version of Beginning (Share!)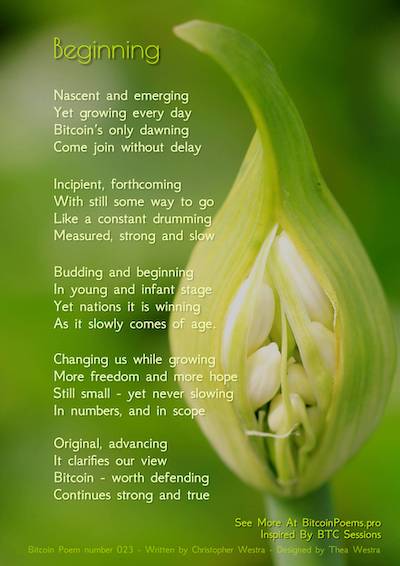 ---
Buy Bitcoin, Then Wait - Bitcoin Poem 024
Larger Version of Buy Bitcoin, Then Wait
Text Version of Buy Bitcoin, Then Wait (Share!)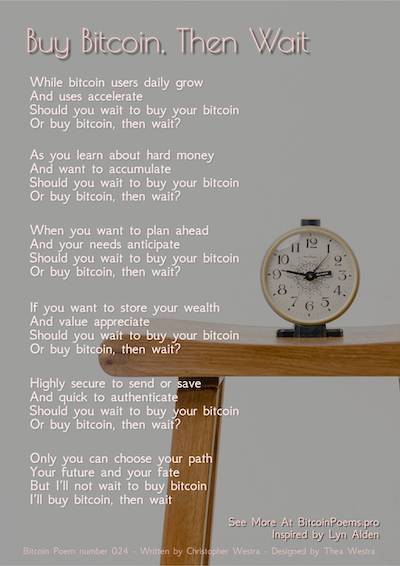 ---
Value - Bitcoin Poem 025
Inspired by Matthew at Trader.University
Text Version of Value (Share!)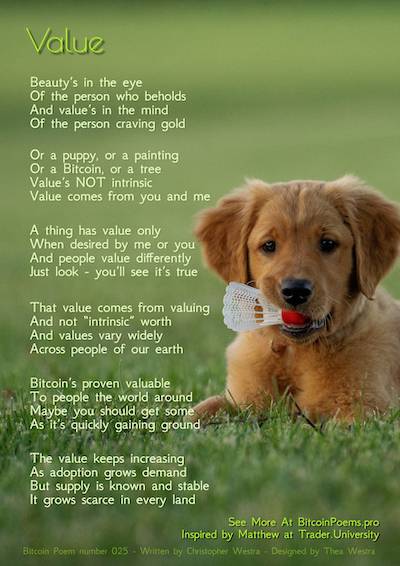 ---
All of the Above - Bitcoin Poem 026
Larger Version of All of the Above
Text Version of All of the Above (Share!)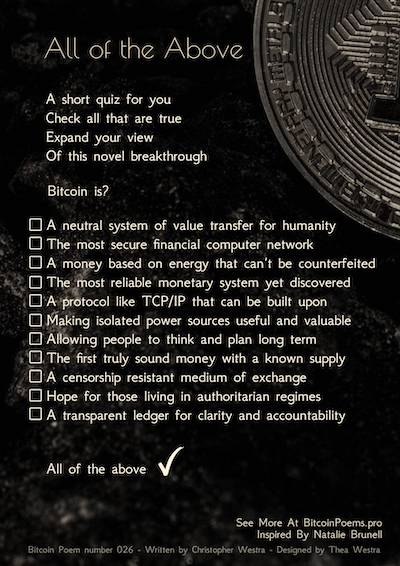 ---
Bitcoin is Restraint - Bitcoin Poem 027
Larger Version of Bitcoin is Restraint
Text Version of Bitcoin is Restraint (Share!)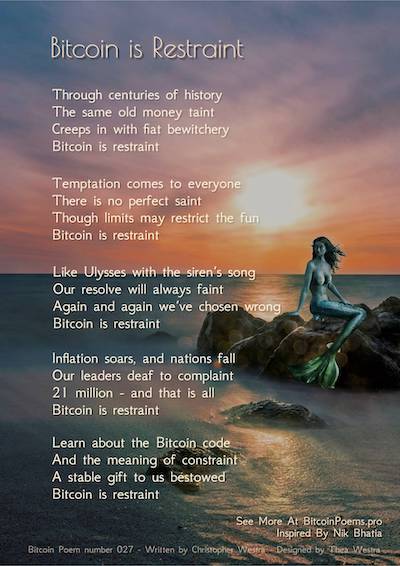 ---
Proof of Work - Bitcoin Poem 028
Larger Version of Proof of Work
Text Version of Proof of Work (Share!)
---
Freedom's Door - Bitcoin Poem 029
Larger Version of Freedom's Door
Text Version of Freedom's Door (Share!)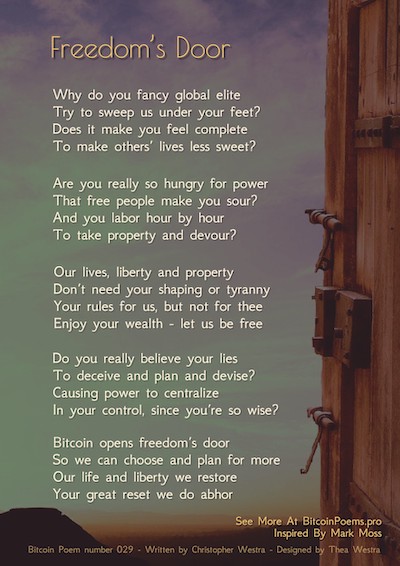 ---
Simple Questions - Bitcoin Poem 030
Larger Version of Simple Questions
Text Version of Simple Questions (Share!)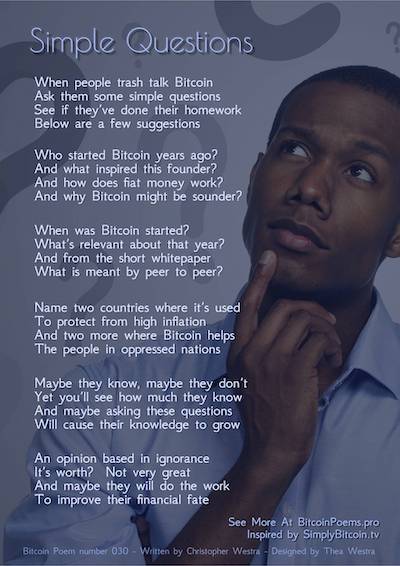 ---
Bitcoin is Abundance - Bitcoin Poem 031
Larger Version of Bitcoin is Abundance
Text Version of Bitcoin is Abundance (Share!)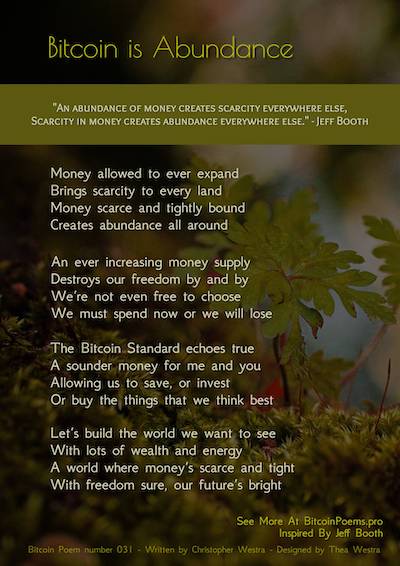 ---
Bitcoin Changes Me - Bitcoin Poem 032
Larger Version of Bitcoin Changes Me
Text Version of Bitcoin Changes Me (Share!)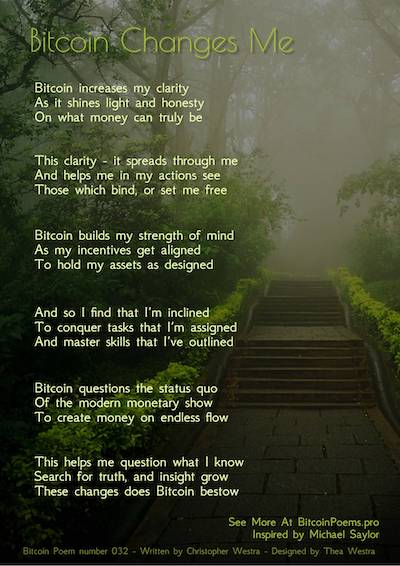 ---
Image Quotes (Excerpts from Poems)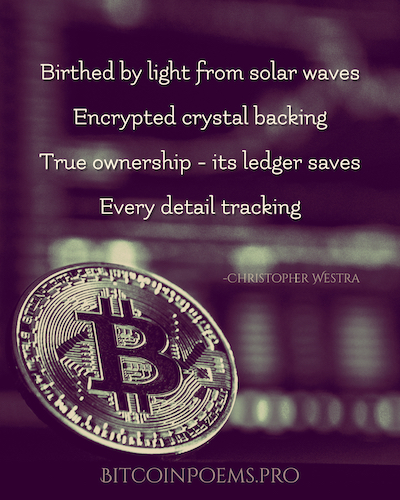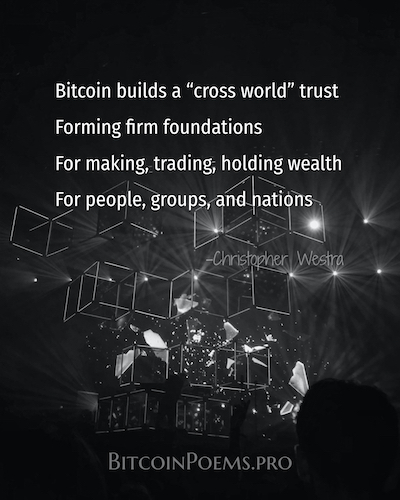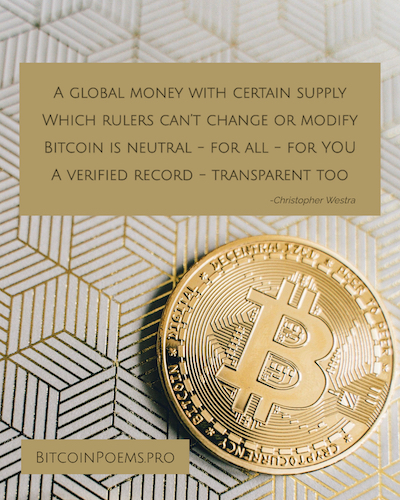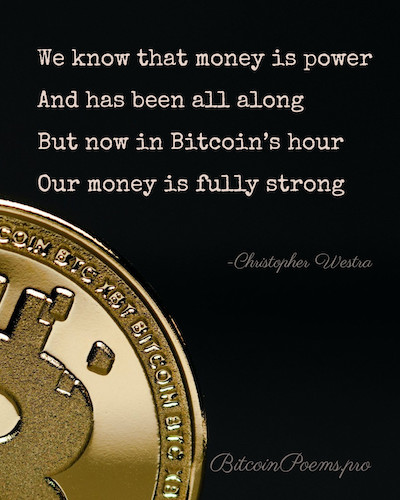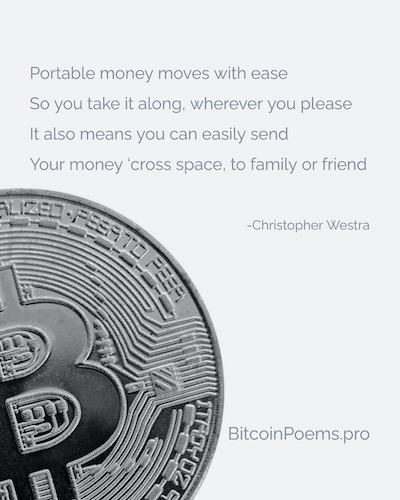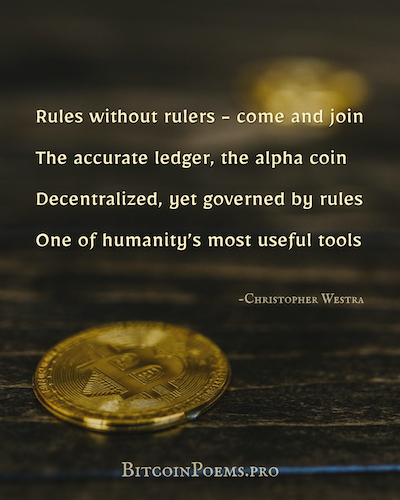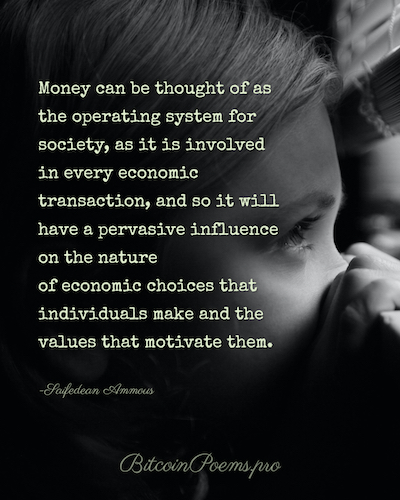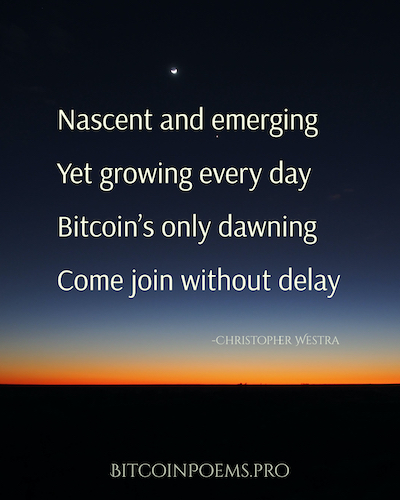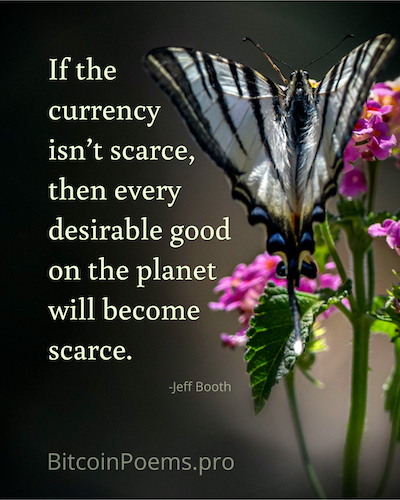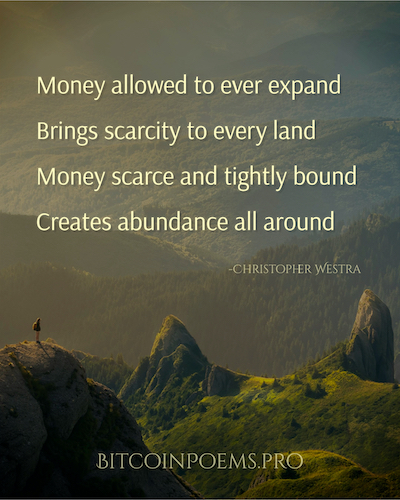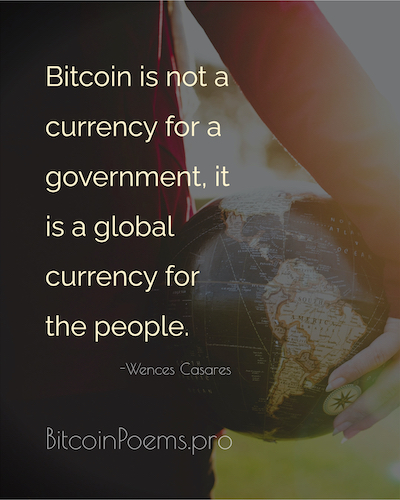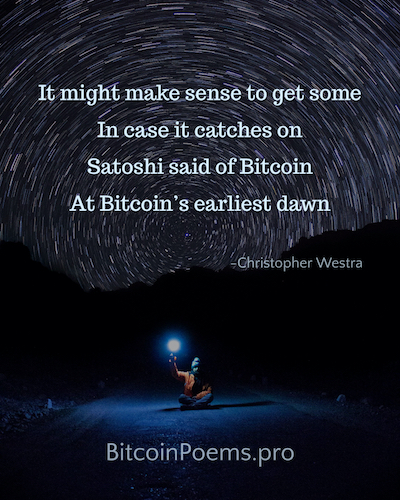 ---
Bitcoin Poems is Sponsored by Prosperity Poems
Bitcoin Poem Backgrounds by Thea Westra