Bitcoin Poem 069
The Future I Want to See
Return to Main Bitcoin Poems Page (Full List of Poems)
---
Click Here (or the button below) to support spreading these Bitcoin Poems to One Billion People (and get lots of Bonuses yourself)!

And, you can sign up right here (or Click Button Below) to get free weekly delivery of each NEW Bitcoin Poem

Support the work - Tip me on Strike
Feel FREE to share image version anywhere!
Freely share text version also (below)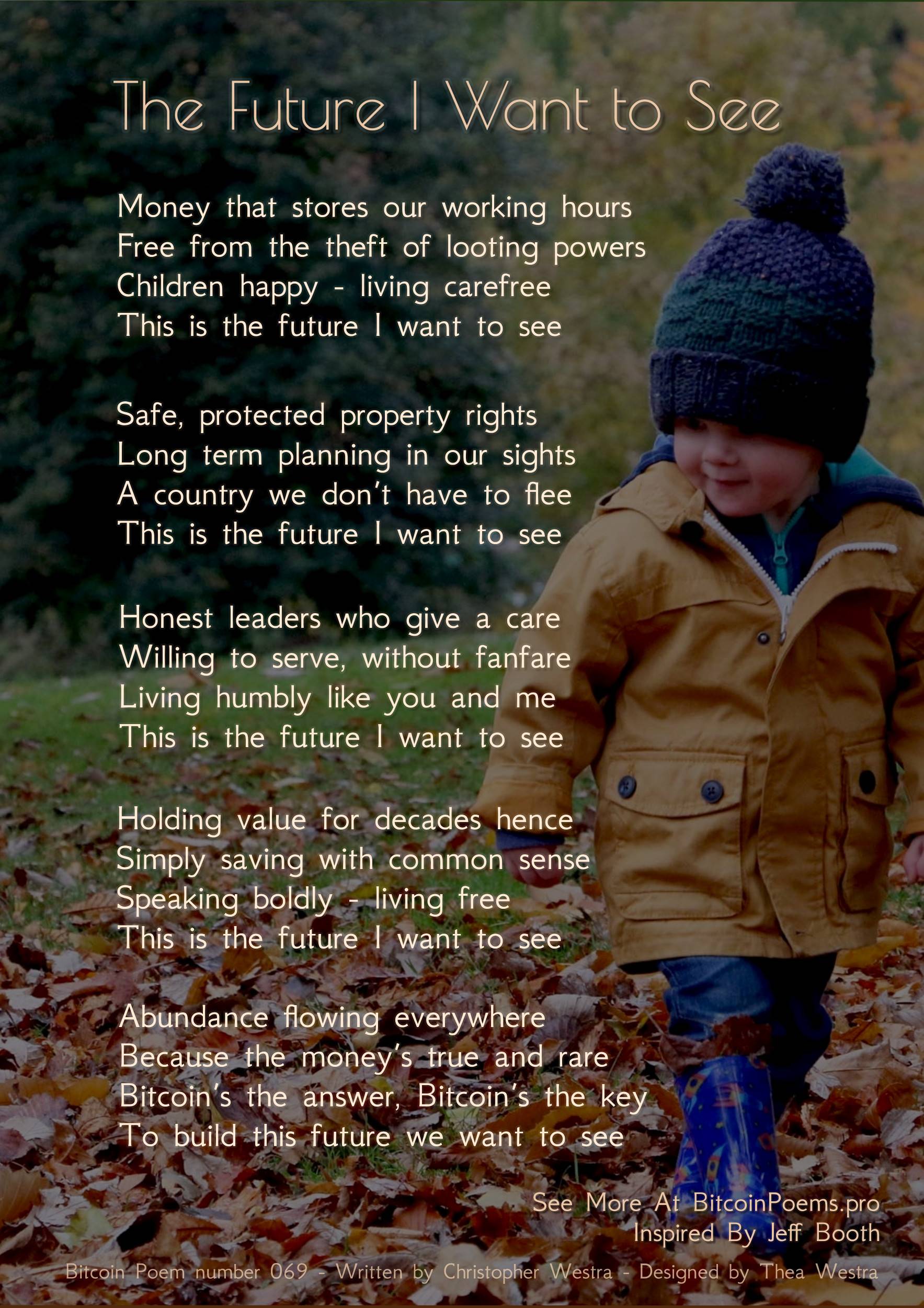 Inspired by Jeff Booth
Author of "The Price of Tomorrow"
Entrepreneur and Technology Leader
Jeff's Interview with James from InvestAnswers
The Future I Want to See (Bitcoin Poem 069)
Please copy source also when sharing
Money that stores our working hours
Free from the theft of looting powers
Children happy - living carefree
This is the future I want to see
Safe, protected property rights
Long term planning in our sights
A country we don't have to flee
This is the future I want to see
Honest leaders who give a care
Willing to serve, without fanfare
Living humbly like you and me
This is the future I want to see
Holding value for decades hence
Simply saving with common sense
Speaking boldly - living free
This is the future I want to see
Abundance flowing everywhere
Because the money's true and rare
Bitcoin's the answer, Bitcoin's the key
To build this future we want to see
Written 10/3/23 by Christopher Westra
See More at BitcoinPoems.pro